Frankly with online deals such as this one, what's the point of even wasting time walking around the mall for supposed deals? Shop instead at Garage.ca this week-end and save 25% off regularly-priced merchandise and have it shipped for just $2!
All that money you save can instead go towards a Father's Day gift or Garage's next promotion.
Shop at Garage.ca
Expires: 17th June, 2013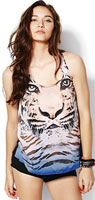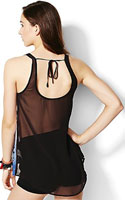 Channel your inner fierceness with the chiffon tiger tank since as Madonna once said: "better to live one year as a tiger, than a hundred as a sheep."
With a relaxed fit and a stunning tiger on the front, $17.90 is but a small price to pay for a shirt that definitely won't go unnoticed at the next party.
Whether you decide to wear it with white jeggins or more of a berry tie dye, it is sure to look awesome either way!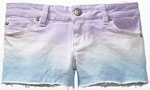 With tie dye in full fashion trendiness, add some color to your wardrobe with the sprayed flirty shorts for just $27.90. It would undoubtedly look great with the super cute crochet sweatshirt, which features a comfy fit and a crocheted pattern on the front.
Accessories are also as important as the clothes themselves, so layer on the charm necklaces!
We'd love to hear from you! Share with us on Facebook your thoughts on Madonna's quote and if you would wear the tiger shirt.