Synonymous with summer, Garage's selection features a huge variety of clothes and accessories, perfect for the upcoming hotter than hot temperatures. Browse through all the regular-priced items and daydream about what you'll be wearing once the time comes to bust out the air conditioners and save 15% off on top of getting shipping for close to free: only $2!
In fact, did you know that Garage opened their first store in Montreal, QC?
Quick tip: Garage's coupon codes are case-sensitive; the promotional code above needs to be entered in all caps.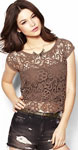 Since crocheted clothes and accessories seem to definitely be making a comeback, stay up to date with the trends with the lovely crochet tee, featured on the left. Discounted to $29.66 with the code above, it comes in a stormy green, which I am wondering if its perhaps a nicer way of saying plain ol' brown. Regardless of the color, the shirt itself displays an intricately beautiful crocheted pattern.
Unless hitting the beach is on the agenda when slipping into this marvelous shirt, do make sure to wear something else under it as it's rather sea through.

Simply to dye for are the splash tie dye shorts, which can be yours for just $29.66. They're retro high wasted and feature a lovely tie dye design with a resemblance to Forget-Me-Not flowers.
Tweet us @CouponsCanada your thoughts on the tie dye shorts.
Would you wear them?