Did you know that we have a dedicated Greenman Gaming coupon page now? Right now, you can save 25% off everything site-wide and that includes all the awesome new releases and hundreds and hundreds of titles. Plus, with this code, you could get a copy of Saints Row: The Third for free, so I thought I would blog about this post for all eyes to take note.
First, the code you need to save 25% off: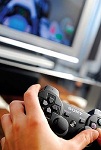 A few titles that might interest you that you can get, before the rebate:
On September 13th 2012 only starting at 6am EST and going for the next 24 hours after that, Saints Row: The Third will be reduced to 75% off bringing it down to $9.99. For a top rated game that allows you to play in an open-ended world that contains tanks and car chases, it's a huge deal for this title.
Plus, the 25% code above can be stacked to the already reduced 75%. That means the game is almost free. Don't miss out!