I had a friend point me towards Fruits and Passion a few months ago and, because of this discovery, I added them to my guilty pleasures list. I was taken aback by the prices at first–$16.50 for a tiny bottle of bubble bath–but after trying it out the other day I would say it's well worth it. Right now, just to tempt you even further, when you buy select moisturizers you'll also get a free shower gel of your choice.
There's also plenty of other deals heating up our Fruits and Passion coupon page, we have such a good relationship with these guys that they even give our readers an exclusive coupon sometimes–if we have one it will be listed on the aforementioned page.
Visit Fruits and Passion and find out more
Expires: Not Provided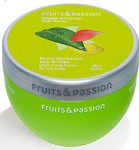 I haven't had the chance yet to try anything other than their bubble bath but, if their other products are as relaxing and delicious as that, then I can't wait to get my hands on their body butters. Stephen uses their shower gels and buys them in bulk when we get a buy one get one free coupon in and then he waits for them to be 50% off, cheeky, but most men wouldn't actually go get nice shower gel without a great offer.
I have the Pear Peony one sitting at home and the scent of it is intoxicating; it has the sweetness of the pear but a slight floral kick to it that adds something to it. I got super excited when I saw the same scent was available in a body butter and shower gel format too. Body butters are a smooth alternative to lotions and, in my opinion, leave your skin feeling less greasy–and certainly less shiny.
You also get 3 free samples with your order and shipping is free with orders of $85 or more.