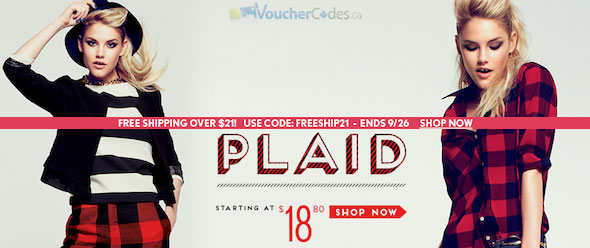 Here is the latest coupon code for Forever 21. This free shipping code can be used on any order over $21 until the 26th of September 2012.

Forever21 has loads of new products but also has new Fall markdowns with discounts that are up 75% off. This includes apparel and accessories for women, men, girls and also plus-sizes.
And because Forever 21 prices are so low, if you decide to spend just the minimum amount to be able to enjoy this free shipping offer, you could easily get 2 items or more. For example, you could grab this sleeveless top with this pair of Denim shorts for a total of only $22.98 + taxes. Pretty cool eh?
We try to write about Forever 21 promotions as much as we can on this bargains blog, but if you want to make sure not to miss any coupon or offer, have a look at our Forever21 discounts page. This page is always updated with the latest deals, so it's the perfect tool to save money on your purchase.