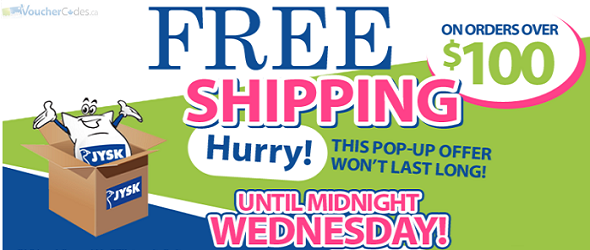 Update August 28th Free shipping is back and better then ever! Don't miss it.
Shipping charges are a bummer and pain and can sometimes be more costly than the item itself. For a limited time, you can wave goodbye to those shipping costs at Jysk when you make an order of $100 or more and eliminate the headache of calculating that inconvenient extra charge. Don't worry, we won't charge you shipping frees for checking out our Jysk coupon page and will never make you pay for it either!
Visit Jysk Online
Expires: 29th August at midnight.

Shipping on orders of $100 or more starts at a minimum of $39.99 and can rise to a high of $59.99; so this is not a bad freebie, if you ask me, I guess that's why they are only running it for one day.
There's a big sale on summer items going on currently and there's some pretty nice pieces you could pick up for the end of this season and for next year. This beautiful Alessandria 3-piece Cafe set was $129.99 and is now marked down to $64.50. It does fall underneath the minimum to qualify for free shipping, but with all the specials going on, you're bound to find something.
Note: If you live in what could be considered a rural area, make sure to call for an exact estimate and if you can get free shipping.