If you have been watching our Addition Elle offer page for a chance at free shipping, then you are in luck! For a limited time, spend $100 or more on your next purchase and receive free ground shipping.
The $100 minimum might seem a bit daunting to reach at first but asking friends and family to combine orders to reach the threshold may simplify the task.
Shop at Addition Elle
Expires: 17th March, 2013
The spring collection is ready for your viewing pleasure with a wide selection of pastel colors, soft fabrics and fascinating patterns for the upcoming season. Look for pieces that that can worn year-round and that will remain in style for months to come.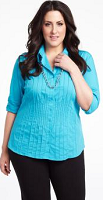 A perfect example is the blouse featured on the right, which is the perfect fit blouse at $49.99. As an extremely versatile piece, blouses can be worn in many different ways to create a chic, casual, or even upscale look.
Another item that is a good idea to have on hand is a simple, black skirt. The pencil skirt at $59.99 is similar to the blouse in its versatility and is a great staple piece for any wardrobe. Wear it for first dates, at work, out for drinks with friends…the options are almost endless.
Shipping is usually at a flat rate of $7.50 on all orders.