Free Queen Latifah's U.N.I.T.Y 2010 Remix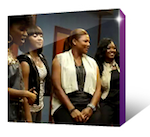 If you like R n B, Hip Hop and Queen Latifah then you're going to like this freebie. It's for a free mp3 of her single U.N.I.T.Y which has been remixed. This is a combination promotion with Cover Girl.
There are no hoops to jump through like emails or address details or a need to register. It's just download and listen. No idea if or when this freebie will expire so hurry.
Download Queen Latifah's U.N.I.T.Y 2010 Remix
Track Download Instructions:
For PC: Download the track below by right clicking with your mouse and selecting "Save Target As."
For Mac: Download the track below by clicking with your mouse while holding down the control key and selecting "Save Link As." Safari users select "Download Linked File."