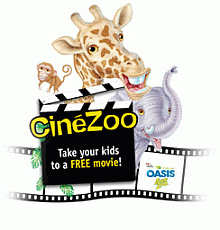 Thanks Jason for sending this one through. Okay, this is a cool promotion where you can get free kids movie passes when you purchase 4 Oasis Fruit Zoo Juices (that's a saving of up to $9).
So if your kids have yet to see movies like Harry Potter and the Half Blood Prince then this promo might be an excellent way to keep them under control for a few hours.
What you have to do:
1. Simply buy 4 specially market Oasis Fruit Zoo products (look for the movie promo sticker on the label) and you will receive 1 free children's movie ticket for participating theatres in Canada.
2. Then you need to peel or cut off the coupon on the label and mail it with your address and details (FruitZoo Movie Ticket Offer, P.O. Box 31051, Barrie (Ontario) L4N 0B3). It may take a little while for your tickets to arrive (they estimate 6-8 weeks), but the coupons on the specially market Fruit Zoo packages are valid for redemption before the 31st December 2009 (or until you can't find any more labels).
Here is a comprehensive list of all participating movie theatres, it's great to see theatres like Empire Theatres on the list and even better that this is a Canadian freebie.