It's not every day that that Wayfair offers remarkable sales and this time, there's a deal for future/current parents that, where it might seem pricey at first, can save you an arm and a leg in the long run. Pick up any of the Oeuf cribs and receive a free Nook Lite mattress. That's a $395 value for absolutely nothing.
Shop at Wayfair Here
Expires: 7th February, 2013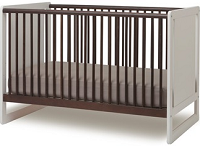 Now to start off with the part that's going to make you gasp: the crib itself runs for as low as $499, like this crib in white/espresso. It's an item that grows with your child and will provide years of use for them and any other kidlets that use it. The only thing that would need to be changed is the mattress.
The mattress itself is a steal and makes the deal more than worth it. It's made from a light, breathable material with your infant and toddler in mind. One side is firm and breathable and can be flipped over to reveal a plusher surface when your child gets older. To find out more, check it out here.
Double check shipping as rates vary per area and order.
Are you going to sleep soundly with this deal?