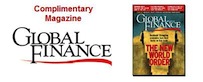 This will be a nice surprise for business enthusiasts; you can get a free subscription to Global Finance for a limited time.
Get your Free subscription to Global Finance
The form does take a while to fill out and they ship it to your business address so if you want to receive it at home I suggest you put your business address as your home address. They also have other offers you might be interested in after you finish completing your form.