Estee Lauder has an award winning line of products for most, if not all, of your beauty and skincare needs. Refill your supply of products from this brand at The Bay to receive a free gift with your purchase. Filled with various items and worth over $105, this gift can be yours for free when you spend $36.50 or more on Estee Lauder items.
Shop at The Bay
Expires: 17th March, 2013
The Bay always has great sales going on throughout each of their departments and we have a fresh and always updated The Bay page with all the specials listed.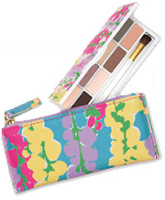 Depending on how much you spend, there are two gifts that you can receive with your next Estee Lauder purchase. The first gift consists of 6 classic items from the brand all tucked into an original Lilly Pulitzer print bag. The gift itself is worth over $105 but can be yours for free when you buy $36.50 or more.
To receive the second gift alongside the first gift, spend $80 or more of Estee Lauder items and it will be added to your order. The second gift consists of an original and exclusive eye shadow compact in a mini travel pouch. The great part about this is that if you spend $80 or more, you will receive both gifts.
Shipping is free with orders on $99 or more. If you make a purchase using your Hudson Bay credit or Master Card, free shipping is available on orders of $49 or more.