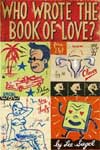 Who wrote the book of love? by author Lee Siegel is given away as a free e-book at the University of Chicago Press website. All you have to do is to enter your e-mail address and you will receive a link to download the entire book for free. Each month, they are giving away a free e-book, so keep an eye out for this if you are interested.
The book requires the flash and Adobe digital editions software, each available for free and easy to install. In case you have none of these installed, the link to download the book will also suggests official links to install the required software. Adobe digital editions will also require an adobe ID which is free and quick to create, and most importantly does not spam your e-mail address.
Get your copy of "Who wrote the book of love?" Here!