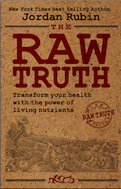 You can now get a free 'The Raw Truth' book copy by Jordan Rubin in health food stores. Here's what you can expect to find in the book:
– 16 educational and inspirational chapters detailing how to eat, supplement and live RAW.
– Dozens of Raw recipes plus where to go to find hundreds more.
– 16 RAWS Protocols specific to age/gender, and those looking to address specific needs-weight loss, immune support, hormone health, fitness/muscle building, healthy inflammation and many more.
– RAW resources – how to find RAW foods and body care products in health food stores.
– Contains valuable coupons for Garden of Life's latest innovation – the RAW digestion line – RAW probiotics, RAW enzymes & RAW fibre.
If you prefer or if you're not able to find a health food store near your place you can always get a free PDF version of the book.
Get your free The Raw Truth book here