There's only one way to conquer those foul and vile odors in your car and that's with a super hero worthy air freshener! Vanquish those scents that assault your nasal passages with a free Mega Man Air freshener with your next purchase of $50 or more at ThinkGeek. Considering how awesome this site is, it's almost impossible not to have a huge wish list.
Our fabulous sidekick, the ThinkGeek coupon page, is ready to leap to the tallest tower and squash prices with its huge savings.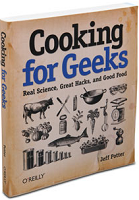 If you've taken a few minutes to read up about me on our fantastic about us page, you will know that I seem to have trouble making Kraft Dinner. For my birthday, a friend of mine bought me Cooking for Geeks, featured on the left, and I immediately thought it was a nice gesture – until he announced that he bought it so I that I wouldn't screw up making KD ever again.
Well played, if you ask me. Well played.
The book is actually interesting and has taught me a few things along the way. Like what to add to make an item have more acidity and how to properly tell the temperatures of meat. There's also a section of cooking with hydrogen and cold fusion, but I doubt my roommates will allow me to try that in the house. You can pick up this culinary must-have for $34.99.
Are you geeking out about this offer too?