With all these great deals everywhere, I'm amazed at how we are making it through the Winter! As it stands, it would seem that March may just very well be the best month of the Winter to shop because of the countless sales on sales. In fact, during the next few days, use the code below to save an extra 30% off already reduced styles at Forever 21 for women, men and girls!
In case you miss this sale, be sure to check our Forever 21 page for the latest discounts and promotions.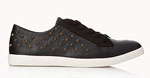 Ultimate walking comfort can be difficult to achieve, so try these leather kicks and let us know if they become your favorite pair of shoes! They certainly look like they might, especially with the padded insole and mostly leather production.

Dare to be wild in the tie-dye skinny jeans featured on the right. While it might not suit many fashion styles, those looking to make a statement or even try something new this year can sure do so with this unique piece from Forever 21, which already reduced to $19.99, can be had for just $14. Alternatively, the beaded goddess mini skirt could also be another outrageous way to stand out from the crowd.
If you're shopping for your daughter, then stop what you're doing and take a look at the garden girl sweatshirt, which would not only help you save a pretty penny but also would let your little one look positively adorable.