Although Forever 21's popularity has been soaring high for a while now, it may still come as a shock to many as to just how low their prices can drop. A good example of this is their current Sale On Sale which further reduced items already on sale by an additional 30% off! Don't believe me? Take a look at their selection for yourself, but hurry as this incredible offer won't last long.
Since this amazing Sale On Sale won't last long, don't forget to stay up-to-date with Forever 21's hottest offers, which are always immediately added to our page dedicated to their discounts.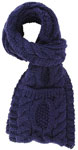 Somewhat reminiscent of the scarf with pockets and a hat that GinaMarie wore on Big Brother 15, the cable knit scarf is the perfect accessory for the upcoming Fall season as on top of keeping your neck warm as the temperature drops, it's also sure to keep your hands warm with its pockets on each side of the scarf. Available in a navy or olive color, it has already been reduced to $4.99 and can be yours for just $3.50!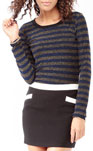 Looking for a great top that can double as both office and happy hour wear at the end of the day can certainly be a daunting task, which is exactly why you should just go ahead and add the striped metallic-blend top to your bag now. This fabulous shirt comes down to $7.70 with the above discount and would look amazing with just about any skirt, whether light or dark! For those looking for an evening skirt, the sequined miniskirt is a great alternative to the top on the right.
Share with us your incredible finds from Forever 21's Sale On Sale on our Forum!