I found this new online florist that has some great promotions right on time for Valentine's day. You can get $10 off select flower arrangements and also a free vase with your order. Not all of the Valentine's day flower bouquets are on sale but you'll find a few with discounts that look really nice. The bouquet called the 'Fétiche' that you can see in the picture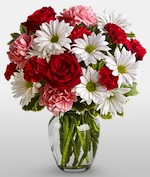 below is certainly one of my favorite ones from the Flora 2000 online store. I really hope my Valentine is going to read this blog post ; ).
When you click on our link, it will automatically bring you to the US page. You can just select the right country in the right-hand corner and have beautiful flowers delivered to your chosen person for Valentine's day.

Promotion Expired!