Aprons are no longer a thing that you're older relatives used to wear; so start thinking about how you can be sexy with one. No one likes ruining a nice dress when they are cooking and if you're going to wear an apron, wear one of the sassy ones from Flirty Aprons. Shop the flash sale going on right now and save 40% off select aprons.
There aren't any men's aprons in this flash sale, but they are a worth a look and a giggle if you're interested. This red cougar one is my favourite on the men's side.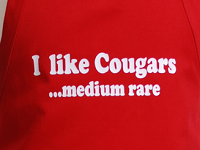 There are six aprons part of this sale and each of them are cute in their own way. Keep in mind that the prices also vary for each apron, as well. I've fallen for the black Marilyn Sugar n' Spice apron at $17.97 after the discount.
Shipping is $4.93 to Canada, and well worth it for these sexy kitchen clothes!