Update: Find below who won the slogan contest…
Wow we have received so many great suggestions! Thanks everyone. You can now go on our Facebook page and vote for you favourite one that made it to the top 5! You have until August 22nd to choose the new Vouchercodes.ca slogan.
Here is the top 5 you can vote on:
"Inspiring Canadians to be savvy savers!" by Karyn
"Saving the Canadian way!" by Karyn
"Saving you money, one code at a time!" by Natalie
"Where saving money makes cents!" by Amy M Congratulations to Amy!
"Relieve your cravings with Vouchercodes savings!" by Andrena

Good luck to the 5 slogans!
This website isn't mine, it isn't anyone's; it's everyone's! All we are here to do is help nurture this community we have all come to love.
So, if that's the case we all need to get to work. Starting with a new slogan.You know how the site works, what the benefits are and why it's the best Canadian coupon site!
In other words you're in the best position to help us put all that in a slogan!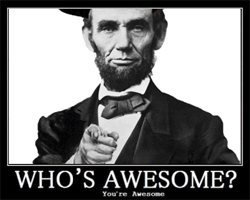 We are looking for a slogan (absolute maximum of 10 words) that represents what our community website is all about and why it is such a great money saving tool. We want something sweet and simple! Be creative and most importantly: have fun!
Help us finding a new slogan and win a $300 gift card!
We'll give you an entire month to submit as many ideas as you like, and from these we will cherry pick our top 5 favourite ones. From those users will then be able to vote for their favorite one and that's how we're going to choose the winner!
Not only will you get a free $300 gift card, but you will also be rewarded with the pride of seeing your slogan on the website every time you're on Vouchercodes.ca.
Read the contest rules below carefully and send us your ideas now!
How to participate:
1) Leave a comment on the contest blog post (this one!) saying what your slogan ideas are.
2) Make sure you leave a valid email address so that we can contact you if your slogan is selected (email addresses are not displayed or shared).
3) Share this fun promo with your friends (no additional entry, but your friends may thank you if they win, plus they will also be able to vote for yours if it's chosen in the top).
* Rules:
Participants must be 18 years old and older
Canadian participants only
Entrants can comment as many times as they like
The contest ends on the 9th of August at 12pm EST, no comments will be accepted after this time.
The winner will be the slogan with the highest number of votes and will be contacted by email, (will not be shared and is not visible to other people other than us) so please don't leave any personal information apart from your name and email address in our comments section.
Winner can choose between one of the following gift cards ($300 value): Amazon.ca (electronic gift card), Chapters Indigo (electronic gift card), Gap brands (Gap, Old Navy, Banana Republic), Kobo (electronic gift card), The Source and Sears Canada.
Voucher Codes reserves the right to change all terms and conditions of the competition