Both young and old people alike remember playing with those potentially hazardous little pieces of joy called Lego. Everything is great about them until you accidentally step on one, or you were the one placing them around the house for unsuspecting feet. Regardless, we've all had our fair share of experience with them. I had bins and bins filled of pink Lego's growing up, and my brother–who is now an adult–still enjoys playing with them when no one is around. If you're looking to start buying stuff for Christmas or if you want some for yourself, Sears has a Lego Event going on right now with some great prices on select items.
Shop the Sears.ca Lego Event
Expires: Not Provided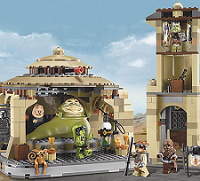 Honestly, Lego in general is a great price for whatever you choose. Take this Lego Fire truck for example at $24.99; it may not seem like you get a lot but with 243 pieces in a kit, it's guaranteed hours of fun. You don't necessarily have to build the truck and you can build whatever you like to your heart's content! If you want to make a huge red, stick man, go for it; there is virtually no limit to your creativity.
I just learned something amazing from their website. Apparently there are 62 Lego bricks for every single person on the planet. That's a big toy car you could build.
This is going on in-stores and online for all your epic, artistic designs. Want some inspiration? Check out this video with some awesome sculptures.