Get into the holiday spirit and relax with your favorite treat and take a few minutes for yourself. Sing a few Christmas carol classics as you shop at Spalook and see what you can pick up for 20% off site-wide. Do you have visions of beauty masks and body salts dancing around in your head? I sure do!
Ladies, do you ever have the issue when you put on eyeshadow that it never seems to last and fades away after a few hours? Wipe away that with the super popular Too Faced Shadow Insurance which you can buy from them.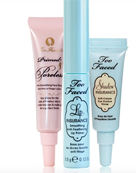 After the rebate, it comes out to $14.40 and this baby last you years. It not only keeps your shadow it place but also makes it pop and will still be there after you dance the night away. I personally use it, and I can't go without it in my makeup bag.
Everything from the brand Too Faced is top notch and well worth the money, if you can afford it. Shipping is also $14.95, so think about bringing a friend to combine orders!