I will be the first to admit that Guess clothing is one of those brands that I would love to splurge on, but have to resist heavily. Well folks, it's time to get rid of that reason and rhyme and go crazy as if we're back to being kids. For a limited time there's a mega sale going on during when a bonus 50% can be saved off select items. No ifs, buts or restrictions: just a flat 50% off select items that you are guaranteed to to scream and shout about.
Spoiler alert: our Guess Canada coupon page is also rocking a pretty darn good code for free shipping on orders of $150 or more. I have saved you the trouble by adding it below: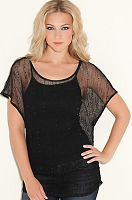 Take note that where the code might finish at the end of the month, this mega-sale ends on January 23rd.
Hold the phone, are you seeing the same discount I'm seeing? This short sleeve sequined top was originally $69 and the price has been slashed into pieces down to $22.48! Keep in mind that lace overlay pieces have been super popular since last year and haven't lost any steam since. With a low-hanging necklace and your favorite jeans, you'll be one rocking chick.
Sparkles and glitter were all the rage a few months ago and I will continue that trend in this 3/4 sleeve sequined tunic that not only provides warmth but helps to stand out in a crowd. It can be yours for $32.50.
Are you going to take advantage of this sale?