Everyone dreams of a winter getaway and yet only a small majority actually escapes the winter during the holidays. Whether you were planning to flying South this winter or not, make your dream a reality with these breathtaking packaged discounts for flights to all-inclusive resorts and enjoy $150 travel credit on your next vacation.
Discover coupons and discounts for Expedia Canada here.
Expires: 28th February, 2013
An often over-looked detail by many first-time flyers to the South is the proximity to the beach. Make sure that the chosen hotel is situated directly on the beach. For a short trips, I recommend booking a hotel that is not too far from the airport because while it may be cheaper to be further away, the back and forth can take away a lot of precious beach time.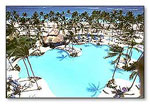 Bear in mind that while the Riu Palace in Los Cabos, Mexico appears to be the ideal getaway with its luxurious rooms and sophistication, reviews on TripAdvisor are rather negative. Instead, I suggest the Grand Paradise Bavaro in the Dominican Republic. Located directly on the beach, it boasts 4 lagoon style pools for adults, 3 pools for children and even a grand total of 10 bars — can't go wrong with that one! At $1,655, it's definitely a great deal considering that the holidays is one of their busiest times.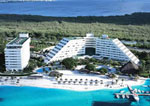 While browsing the different packages available, I also stumbled upon a more renowned vacation destination: the Oasis Palm in Cancun, Mexico. Built in the form of a gigantic pyramid, a weekly stay comes down to $1,472 and only $40 more for an ocean view.
Where will you be vacationing this winter?
Note: At the time of writing this post, an error prevented the packages from being booked as well as seen in detail. If you're interested in a particular package, be sure to check back regularly.