Do you have a dream of owning your very own website dedicated to an idol or an extreme hobby you have? Don't push that fantasy to the back back of your closet because of extravagant hosting prices and look into the not one, but two exclusive offer that we have for Eleven2. Start thinking about your web design project and enjoy 30% off any term (as in the period of time) you choose and 75% off your first month.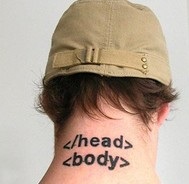 Alternatively there are other instant coupons and deals on on our Eleven2 page for all valid discounts, anyone that has dabbled in HTML coding before will get a chuckle out of this image.
There's a variety of options at your disposal for pricing; from basic packages to the more advance and intense ones, all ranging from monthly pricing to a 3 year option. Even if you're an amateur and don't know where to start when it's comes to building a website, there's also features that come with your bundle that allow you to make one with ease.
Have you tried their services?