If you are completely entranced with the J.Crew brand, I'm about to make your world spin with this offer I found! For a limited time, you can save up to 40% on select items in the J.Crew factory section. Same brand, just even deeper discounts for the masses.
We also have a J.Crew coupon page for the main part of the site if you're interested.
Find out more at J.Crew here
Expires: 7th October, 2012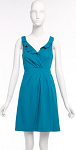 Keep in mind that the discount have already been applied to the listed prices at J Crew.
I've never really looked at J.Crew and wasn't expecting to find something that I'd fall madly head over heels for; until I discovered the dress featured here. This cotton ruffle dress was $103.50 and has staggered down to an outstanding $39.50. For those prices, why haven't you rushed to buy it yet?
Shipping is a flat rate of $9.95.