You may call me Luke Skywalker and I'm here to rescue you from boring online games. I've played my fair share of online games in the last few years, including a stint of time being one of those nerdy World of Warcraft players, and I'm firmly against the idea of paying to play a video game. For the moment, Star Wars: The Old Republic is a game with a monthly subscription, but that is all about to change.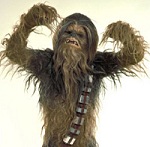 Starting this fall, they are adding a "Free to Play" addition to the game which is a welcome relief to everyone. I turn my nose up at the prospect of paying a subscription to play a game, so this game quickly turned me off; the idea of playing with light sabers wasn't even enough to sway me. Along with the prospect of playing for free they also lowered the price of the regular game to a simple $14.99 which is peanuts for a game of its caliber.
There's 30 days of paid game time included with the regular and deluxe version of the game, otherwise it's $14.99 per month for a subscription. If you prefer in-game items, you can purchase the deluxe edition for $19.99. I most likely will, but I'm also one of those people who bought the Wrath of the Lich King Collector's Edition just so I could get the in-game baby Frost Wyrm.
From what I can tell the game is only this deal at Origin, powered by EA. So the deal below will take you there.
Promotion Expired!