It's still not too late to pick up a costume for you and the family! Even if you're lacking ideas of what you could be, Wal-Mart is there to help and to provide savings at the same time. For a limited time, you can get some wicked savings on costumes for the whole family.
Shop the Selection at Wal-Mart here
Expires: Not Provided
The only downside I see is that this Belle costume isn't available for adults. I would like to be a Disney princess too!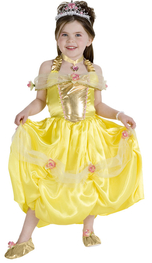 Instead, I'll settle for being a Punky pirate this Halloween and go around saying pirate sayings like Arrrr rambling on about trying to find a treasure somewhere.
Some items do include free shipping as well, so make sure to check that out.
What are you planning on dressing up as for Halloween?