When you hear mentions of the clothing brand Buffalo, it's more than likely you're going to associate it with the line of jeans they carry. But there is more to this company than just denim. All of their clothing are meant to last and withstand most of what you throw at them, along with the ever changing fashion world. Right now, you can take advantage of free shipping when you spend $99 or more.
Shop now at Buffalo here
Expires: 31st December, 2012
If you're a big fan of the brand, make sure to bookmark our Buffalo jeans coupon page for other amazing deals.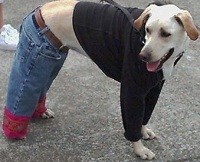 As cute as your dog might be in these jeans, I wouldn't recommend buying him or her a pair!
There's a bunch more available at the Buffalo online store besides just jeans; they also carry shirts and dresses, to name a few, as well as a loads of graphic shirts. Have a look at this purple graphic tee as an example of an item that could be considered as a welcome addition to any collection. It's regularly at $49.00 but it's on sale at $39.99.
Some advice: if you're interested in buying something from Buffalo, but either can't afford over $99 or have no desire to spend that much, recruit friends and family and make a joint order. That way you will all be able to save money on shipping and total costs overall.