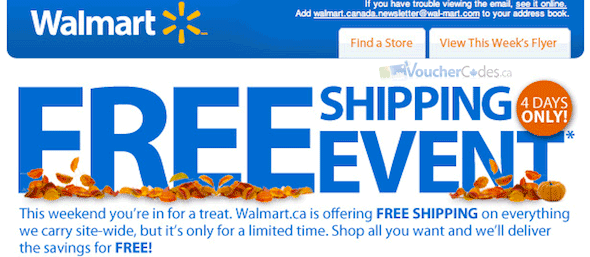 During the whole long Thanksgiving weekend, Walmart.ca is offering free shipping on all purchases. This could be a good way to avoid the crowds shopping at Walmart. The offer doesn't apply to some remote locations though.
They also have an online exclusive deal that changes every day and from I what I saw on Friday, these are excellent discounts. These one day deals are also available in store.
Shop the Walmart.ca Thanksgiving sale
Expires: 8th October, 2012

If you haven't bought your Halloween costume yet, this could be your chance to do it. Choose one at Walmart.ca, which are pretty cheap, and order it in only 2 minutes. You will then receive it directly at your place and won't even have to think about it before Halloween. That's what I call efficient shopping!
If you want to have more ideas on where to buy your Halloween costume online, have a look at this Halloween discounts roundup bargains blog post that Erin wrote this week.