This weekend only (offer ends on September 9th), DFSDirect.ca is offering free shipping on all orders. This is the perfect opportunity to grab a laptop, desktop or monitor for cheaper.
What kinds of computers are sold at Dell Financial Services and why are they so cheap? All the equipment is refurbished off-lease and they are sold with a 30-day total satisfaction guarantee and a 100-day limited warranty.
Enjoy free shipping from DFSDirect.ca
Expires: 9th September 2012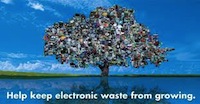 Nowadays with technologies that change so quickly, it has become normal to regularly swap our old electronics for ones that perform better and faster. By doing that we create a lot more 'e-waste' that will most of the time end up in landfills. In 2009 for example the US generated 3,190,000 tons of e-waste. So any chance to reduce this should be considered.
Buying refurbished electronics is a good way to reduce our impact on landfill use and it's also a good way to save money on electronics.