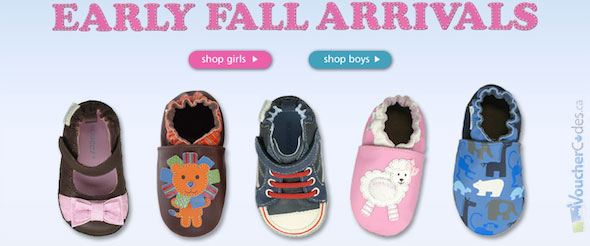 As of today and for a limited time only, Robeez is offering an extra 30% discount on select soft soles and mini shoes. If you want to find out which models are on sale, you will need to go on their site using the link below and keep an eye open for the sale prices indicated in red.
Shop at Robeez Canada now
Expires: Not Provided

There are quite a few models on sale, including new arrivals which is great. You can even find the famous and super cute Robeez booties for only $24.99, regularly priced at $38.95.
Robeez is also offering free shipping when you buy 2 pairs or more, so if you only need one pair, what about you team up with one of your friends who also needs one so you can skip the shipping fees? (Facebook is good for this)
Since I don't have kids, I don't know much about the healthy development of children but I know that a lot of my friends buy soft sole shoes for their kids. You can find out more about why these are supposed to be good for your kid's healthy feet here at Robeez.com.