Taking a trip to a restaurant with the family can be rough and unfriendly to the budget, especially if you have young, finicky eaters in your mix. For a limited time at participating Boston Pizza restaurants, you can now get your hands on a Kids Card to get five free kids meals. All that you need to do is donate a minimum of $5 to the Boston Pizza Foundation, which helps support either a local, regional or national charity.
Find out more at Boston Pizza here
Expires: Not provided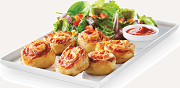 Excluding the drink and dessert, the average price of a kids meal is $6.99, so this is a hefty discount! They've recently released a new kids menu as well that feature a bunch of appealing items, like the BP Mini Burgers or, what I would love to get my hands on, Pizza Pinwheels. This–I assume—is why they are running this promotion.
Keep in mind that if you have multiple children, you can't use the card more than one time per order. For an extra $5, why not donate twice and save even more?