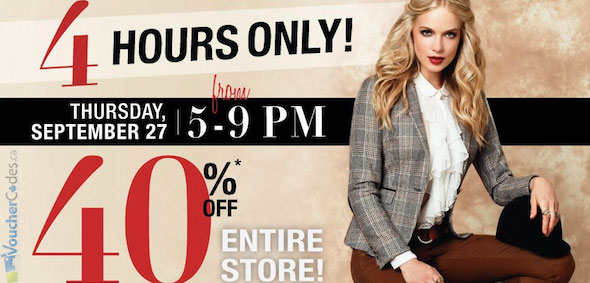 Get ready for a great flash sale at Suzyshier.com today. Starting at 5pm and going on until 9pm, enjoy a 40% discount on their entire store. If you would prefer to shop in store, have a look at their website to find a list of participating stores where the sale will start at 12pm.
If you are a Prestige member, you will also get an extra 10% discount on your purchase after the 40% discount has been applied. If you don't have a Prestige card, you might want to consider signing up today because it will also give you a 20% discount on your first purchase. I'm not sure you could use it on this sale though.
During this promotion, shipping is free on orders of $100 or more. Otherwise standard shipping fees starts at $8 for orders of up to $24.99.
Shop at Suzyshier.com now
Expires: 27th September, 2012 ( until9pm)
It's been a while since I had a look at the Suzy Shier online store and I was impressed by the general look and feel of it. It's easy to use and the clothes are well displayed so customers almost have the feeling that they are shopping in store.
They have some apparel essentials for work at low prices. This blazer is only $30, but is going to be only $18 in a few hours!