Until tomorrow only, September 24th 2012, customers can save 30% off books at Blurb. But since we regularly have discount codes for Blurb, you can always check our Blurb promotions page to find the latest one if ever you missed this one.
You can now make ebooks or instagram books with your photos at Blurb.com. If you're not sure what you want to make, have a look at the project ideas section, it's pretty inspiring.
With so many similar services available online to create your own photo book, what is the buzz around Blurb? Having tried a few different ones, I would say that the number of templates and options available in the Blurb software is bigger than in most other ones. This allows us to have exactly what we want and to make a book that could potentially look more professional.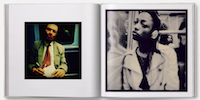 On the other hand, it also means that it could be a bit more complicated to use and you will need to spend more time on your project for a professional result. So before starting a new photo book project, it is important to choose the online service that will fulfill your needs.