There's still time left if you're in dire need of a Halloween costume! From the silliest of costumes to the more daring, intricate ones, you can be whatever your heart desires thanks to the selection at Party City. Right now, save 25% off your order of $50 or more when you have one or more Halloween costume item in your order. Even if you place an order for regular party supplies, make sure to throw in a Halloween item to get the discount.
The force is strong within baby Yoda and he/she is using their Jedi powers to tell you that they only want the best candy. Candy leads to happiness, happiness leads to a smile and so on.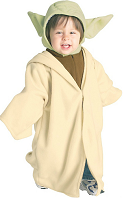 You can pick up this costume by by clicking here and cheering when you see that it's only $24.99.
Have you thought about doing a group costume as a family? Why not go as characters from Star Wars or become super heroic by dressing up as The Avengers?
Just think about how fun it would be to go trick or treating as a family of pirates! Put on your best swashbucklin' impressions and go around collecting that elusive candy booty. A pirate can never have enough chocolate treasure.
Shipping and handling varies per order.