There's much more at your local and friendly chapters store than just books and magazines. It's a wonderful place filled with home items, accessories and even toys for the younger ones in your life. Any fan of our Chapters Indigo page will know that there's always a chance to save, and this time is no exception. For a limited time, save 15% off your order of $75 or more on books, gifts, home decor, toys & more.
Since, we are currently in the process of looking at stockings and general holiday decorations at my household, this silver sequined stocking just screams that it's the perfect fit for me and I'm sure for anyone else as well.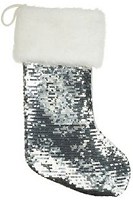 Featured on the left, this eye-catching item is on sale at $12.25.
Something else that caught my attention was this feather ornament ball and at 50% off for $4.75, it's simply a steal! Just image all the compliments you'll get about this original holiday item!
Don't forget that you can also ship your purchase to your local store for free and pick it up there instead. Give it a look and let me know what you will be getting?