When the Wii launched in 2006, it had sold over 600,000 consoles in North America in the first week. There was such a huge demand for this console that it was almost impossible to find one anywhere. Avoid that headache and pre-order the Wii U from The Source and save 15% on select Wii U accessories at the same time.
Make sure to bookmark our The Source page for other, non-gaming deals. It's rare that we get codes, but we always have deals and if there are any codes we are the first to be notified (by personal email), so if they're out there, we have them.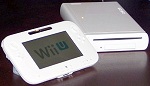 The Wii U console is backwards compatible with games and accessories from the Wii, so there's no need to rush out and sell them. The basic console itself retails at $299.99, which was the same price as its first generation counterpart back in the day and, when you take a look at what the system itself can do, the price is rendered almost irrelevant. It totes a huge CPU processor and can dish out epic HD graphics like no one else. With its second screen, you get added features and more options than what you would get with a basic controller; think of it like the Wii and the Nintendo DS had a baby and it spawned the Wii U.
Here is a demo of the system by Wii themselves (it's like an ad so watch the volume on the computer).
What do you think of this system? Will you be getting it?