Take a moment to imagine receiving double the amount of products for the same price. Sounds pretty good doesn't it? Now turn this imaginary thought into reality by redeeming ELF's code for $20 of free products on purchases over $25!
First time shopping at E.L.F. Cosmetics? No worries, read all about them here.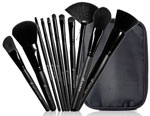 To be honest, I only use one make-up brush but I have often contemplated getting more, especially after seeing make-up tutorials such as Jaclyn Hill's foundation routine – how to get flawless skin. Walk into any drugstore however and you will immediately be faced with outrageous prices for a single brush and this is exactly why buying a set online is that much worth it. In fact, the 11-piece brush set collection is just $30 — that's less than $3 per brush!

Since unique nail art designs are also incredibly popular at the moment (with a big thanks to cutepolish for all the unique ideas), then the 14-piece nail cube is definitely a must-have this Fall. When the leaves start to fall and the air outside gets colder, just cuddle up with the cube and get creative with your nails!
Share with us on the VoucherCodes.ca Forum your must-have make-up essentials.