Strap on your stylish pair of cowboy boots and saddle up your automobile for some roaring ol' good times. Two outstanding attractions in Ontario have joined the rodeo to offer frugal alternatives to all your young buckaroo's out there. For a limited time, Black Creek Pioneer village is offering free admission for kids and the Drive-in 5 theater is offering Carload Thursday deals, where you can lasso up your car in the lot for a flat rate of $15.
Black creek is a turn of the century themed village that not only offers plenty of chances to learn more about history and culture, but they also offer plenty of hands-on activities like rolling out dough for bread and the chance to practice their penmanship. It's more geared for your young bucks, but has the chance to be pretty entertaining for your older ones too.
Until the end of August, kids get in for free from Monday to Fridays with the purchase of an adult ticket; which won't break the bank at just $15.00. As a bonus, four kids can get in for free per paying adult.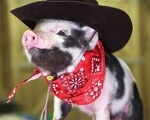 For nightly entertainment, avoid the local saloon and dangerous poker games and head over to the Drive in 5 theaters to get a cowboy special. Every Thursday is "Carload Thursday" and your whole car ca get in for only $15. Instead of it being $11.00 per person, this is a flat rate for your whole steer….euh, car. From tiny smart car to huge van, the price remains the same.
This deal is going on at not only the Drive-in 5 in Oakville, but also the Mustang in London, the Starlite in Stoney Creek and the Sunset in Barrie. Giddy up, cowboy!