Never be unprepared again for the next formal event. Pick up everything you and your family needs for the next fancy event for less during the Sears Canada Dresswear Event. If this isn't what you're looking for, make sure to check out the Sears Canada coupon page for the latest and best discounts.
Shop at Sears Canada
Expires: 7th March, 2013
From shoes, dresses, shirt, accessories and even undergarments, they truly do have everything you might be missing. With prom coming up soon for some lucky seniors in high school, start shopping early for the perfect outfit.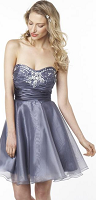 A cute dress that a prom-goer should consider is this beaded bodice party dress that is featured on the right and that is on sale at $90.99. It's flirty and has enough glam to make you stand out to your full potential.
Pair the dress with these simple Satin heels at $94.99. They can even be dyed at your local shoe shop to match any personal style. The price might be shocking, but the fact that you can dye them over and over again makes them more than worth it.
Are you going to prom this year? If you've already been, do you remember what you wore?