Kids and babies grow so fast and outgrow outfits quicker than you can blink, so that what you bought a few weeks ago may no longer fit. That's why the bi-annual sale at Gap Canada to save up to 40% off on babies and kids clothes is a welcome relief.
Don't forget to check out our Gap Canada page to save even more on your order.
Visit Gap Canada and find out more
Expires: 13th September, 2012 (online) and 19th September (in-stores)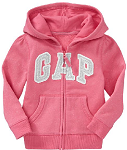 This is a great chance to stock up on some clothes for less to replace the ones the little ones grow out of. There are leggings and hoodies available for all ages and sizes, and most are classic basic pieces that never go out of style.
Shipping is a flat rate of $8 or free with orders of $50 or more.