Your young toddler and tot is cute no matter what you force them to wear, so make sure their feet match the cuteness that covers the rest of their body. Pencil yourself in some time to check out what Robeez has to offer you and enjoy some New Year savings to the tune of 30% off your entire purchase.
Would you be surprised if I told you that we have a super duper Robeez coupon page? Even if you're not, feign surprise and read on:
If there were a way for me to get these Alien soft soles in an adult format, I would jump through hoops of fire for it! For the young ins in your life who desire to walk around in these beauties, you can snag them for $29.99.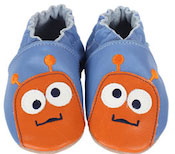 I'm pretty sure that even the most girly of girls would go crazy over wearing these brown soft sole booties. You can pick them up for your little princess or prince for only $38.00 before the discount.
Shipping is free when you purchase two pairs or more. What do you have your feet….erm, eye on?