If your dreams are filled with images of peep-toe pumps and cute ballet flats then it might be time to make that dream a reality. Stop fantasizing about your next pair of sandals and rush on over to Charlotte Russe to take advantage of their sale to save up to $40 on regular priced shoes.
If a fresh pair of booties isn't your cup of tea, then stay tuned to our Charlotte Russe coupon page for other deals.
Shop the shoe collection and at Charlotte Russe here
Expires: Not Provided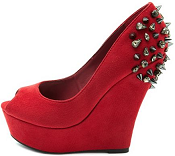 If you're daring enough to wear these pumps–I know I'm not–you can find them here at $45.50.
Here's how it breaks down, with the discount being applied to your bag:
Save $15 off $50 or more
Save $25 off $75 or more
Save $40 off $100 or more
I wasn't dreaming of these velvet pointy-toe pumps, but I think I might now! At $32.50, they offer two different styles for any time of day, a black version to spend the night dancing in and a taupe version to wear around the office. At that price, I just might pick up both styles.