Although Victoria Day celebrates a queen long passed, the times have undeniably changed and what better way to celebrate the changing times than with electronics from Dell? Take heed of our advice on what to do during the May Long Week-End and go on an online shopping spree with up to 50% off electronics during Dell's Victoria Day Sale.
Celebrate Victoria Day by saving at Dell Canada
Expires: 24th May, 2013
Let's face it: upon deciding to get a laptop, most people think to themselves that the new device is an investment, good for a couple of years. The thing is that with the constantly evolving nature of electronics, there's no such thing as "investing" into a laptop because within the year, a better one comes out or sales such as Dell's roll around.

If you can't even remember when you got your laptop, then the time has come for a new one and the Inspiron 15R Special Edition should most definitely magically end up in your shopping cart.
Reduced to $799.99 and with 4 stars out of 5 — what are you waiting for?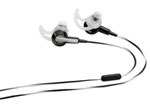 Among a variety of other deals, you can also save on earphones such as with the Bose Headsets featured on the right. On sale for $125.99, they have been designed with enhanced acoustics for a smoother listening experience.
Do your plans for Victoria Day include online shopping?