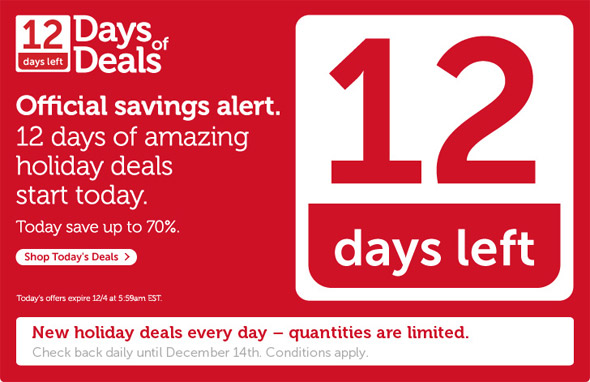 Every now and then, Dell Canada runs "12 days of deals", but never are the deals as good site-wide as the 12 days of Dell Canada Holiday Deals. It works in the following way: every day for 24 hours, Dell will offer a discount of up to 70% off. Since the deals are changed on a daily basic, forewarning of upcoming deals is not provided. Presumably, we all have keep checking every day.
For example on Monday 3rd (when I wrote this article), the deal was for select PC's, accessories and some electronics that Dell sells without manufacturing. Quickly calculating in my head, the top discount was for just under 40% off and it was on a laptop to boot, which is extremely good in anyone's book.
Shop the 12 Days of Deals at Dell Canada here
Expires: 14th December, 2012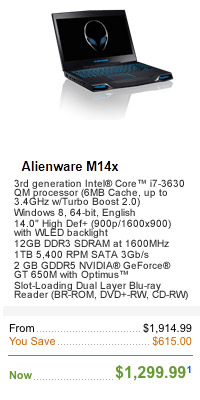 Every day, the selection of deals will change, and if you have been waiting to buy an xps, inspiron, alienware or indeed any Dell product, then check back daily to see if the product you have been waiting for is on sale. To see the current sales, click the link above.
You actually might also want to try using one of these dell coupon codes, and while I'm unsure whether it can be applied in conjunction with this sale, it's definitely worth a shot to try it.
The discounts are the best Dell deal hunters are going to see this side of Christmas. While better deals may become available during Boxing week, in case a product is needed as a gift, then these deals are the best bet. You can see from the image that this Alienware laptop has been reduced by $615, which is super for such a powerful cutting edge piece of hardware.
Note: Also, from the look of it, during this period Dell.ca is offering free shipping -restrictions apply.
Let me know what deal you manage to snag at dell?