Did you know that March is one of the best months of the year to buy electronics such as TVs? For those of you in need of a couple of replacements or new acquisitions, back in full blast are Dell's 12 Days of Deals with new promotions being added on a daily basis until March 15th, 2013.
Important: In case you miss one of these daily changing discounts, check out our list of Dell Canada deals.
Shop the 12 Days of Deals at Dell Canada.
Expires: 15th March, 2013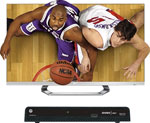 Spectacular TVs can rack up quite a fortune – that is unless you shop during one of Dell's much-anticipated sales. In fact, Day 2 of the March 2013 promotion is offering customers an LG 47-inch 3D LED TV for only —wait for it— $799, reduced by $700 from $1,499.99. Yes, that means that while some may have paid full-price, those of you in need of a TV will gain the upper-hand in the couponing world by paying tremendously less.
Given the fact that not everyone needs a new TV, you might as well save on a smaller scale with the Kingston® DataTraveler 111 USB flash drive discounted to only $23.99. Even more useful than saving money on a great device is its feature of 32GB of memory, which is the same amount that a vast majority of smartphones and tablets offer.
Most importantly, Dell Canada offers free shipping as well as free returns within 30 days of purchase.
Leave a comment below to let others know of upcoming deals from Dell's Days of Deals.