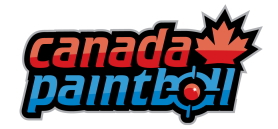 Congratulations to Kate!


You are the lucky winner of the $100 gift card valid at CanadaPaintball.com! She entered the contest after writing ' I'd love to give this to my dad! Even old guys like paintball lol'. I totally agree with you, there's no age to like playing paintball. I really hope your dad will be happy with this great gift. Thanks everyone who participated to this giveaway and don't forget that we still have 4 more prices for you in the following days. And many thanks to CanadaPaintball.com for teaming up with us.
Every day we're getting closer to our biggest price in our 12 Days of Christmas contest but until that date we still have a few awesome giveaways for you! Today's giveaway is one from CanadaPaintball.com who have decided to team up with us to offer you a $100 gift card. Just like we had the Hello Kitty basket perfect for little girls, this would make a perfect Christmas gift for teenage boys. I don't how your boys are but I remember that this is something my brothers always wanted when they were younger. Canada Paintball is an important retailer in paintball supplies such as guns, pistols, safety gear, gun parts and a lot of other accessories that you might need to practice paintballing.
If you would like to participate and get a chance to win this $100 gift card for CanadaPaintball.com, just leave us a comment on this blog post. And don't forget to like our Canada Paintball post on vouchercodes.ca Facebook account to get additional entries. And if unfortunately you didn't enter the competition on time, you can always check our CanadaPaintball coupon page to get all of the codes that will get you the best discounts at their online store.
Good luck to everyone!