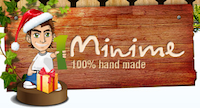 Congratulations to Mel!

This is our lucky winner of the minime statue from 1Minime.com. Here's what our bargain hunter wrote to enter the competition: 'Nice contest! Wish I could win a mini version of me ;) Some luck pls!'. It looks like you were lucky because you will get right on time for Christmas a mini version of you. Many thanks to 1minime.com for teaming up with us for this great contest. And if sadly you didn't win that giveaway, you still have time to order a minime for Christmas!
We still have 6 giveaways that can be won in the following days so you still have a few chances to win an early Christmas gift. Today's giveaway is one that I particularly like: a personalized statue from 1Minime.com. Here's how this service works: you need to choose a body for your statue (check their website they really have funny ones), you send a picture of yourself or somebody you know and then you can follow the creation of your own statue in every step of the process. I think these personalized statues could make really funny Christmas gifts. I'm considering getting a golf player for my dad so he can put on his desk. I'm sure he would love it!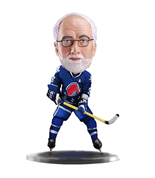 To get a chance to win a free personalized minime statue, just leave us a comment below on this blog post and you'll automatically enter the competition. No need to send us a picture of yourself at this point, we'll ask for one if ever you're the lucky winner ;) Many thanks to 1minime.com for teaming up with us for this awesome giveaway!
Good luck bargains hunters!