Congratulations to Karyn!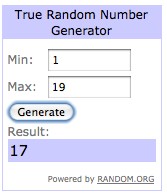 She's our winner for day 4 of our fabulous 12 Days of Christmas contest. She has won a $100 gift card from Canadian Tire, spend it wisely, or from your comment it looks like you're going to re-gift it.
Today's price for our 12 Days of Christmas awesome contest is something that I think everyone will much appreciate! We're giving away a $100 gift card valid at any Canadian Tire store. We know how much Canadians love this store, so we thought that you would be more than happy to get a chance to win this gift card. Canadian Tire sells all sorts of things from auto parts to home articles and electronics which means that you could use this giveaway on everything you might think of. Good luck bargains hunters!
You need to enter a comment on this blog post to get a chance to win today's giveaway. Plus, don't forget to like the post on vouchercodes.ca Facebook account to get an additional entry in the contest. Note that for the previous days some people have been 'liking' this post using the button below, but unfortunately we're not able to see who you are if you're not friends with us on Facebook. So, if you want to have an extra valid entry, add us as a friend on Facebook and at the same time get daily updates on all our coupons and promotions!
Coming in the following days: more giveaways from Sears Canada, CanadaPaintball.com and Dell Canada.